Francois and Bridget moved to Ladysmith recently and had not been to many of the local dive sites. I took advantage of being on the Island and being so close to Madrona to give them a tour of a great dive site. I guess I was practicing those Dive Master skills, guiding local divers!
When I arrived at Madrona, two divers were there already. I recognized the tanks and it turned out they had been staying at Riverbend Resort, the same as Heather and I. It was a great idea, because there were many local dives in the area. They had not been in the water yet, so there was no report on visibility or current to be had yet.
Soon after Francois and Bridget arrived. Bridget wasn't diving today, and planned to relax in the area. Unfortunately, the weather was overcast and threatening, with the odd shower here and there. We did a quick dive briefing on the beach, aiming to hit the main wall. I had found a map of the underwater portion of the dive site
here
, which seemed pretty good. I was a bit worried because I had not dove Madrona for a while, and was rusty on my directions. I knew you could miss the main wall pretty easily, and I wanted to give Francois the best dive I could. Tides worked out well for us, it was nearing high slack when we planned to get in the water.
I decided to put us in at the smaller V instead of the big V based on the dive map. I figured it seemed easier to find the wall that way, keeping the rocky maze on the right and heading out at 0 degrees. However, in practice this didn't work out as I planned. I didn't realize that the wall went kind of north-south, so when I was swimming us out underwater, I went off to the east too much. This put us in the middle of the sand that I wanted to avoid! Oops. Fortunately I turned us around and headed back, figuring to aim for the middle wall. About 40 minutes in to our dive, I spotted the old scuba cylinders mentioned in a few different directions I had read. We went over, and just past that there was the wall. Yay! Granted we were more than three quarters through our planned dive, but at least we found it. Our average depth was much shallower than we had planned because we had not found the wall, so we had quite a lot of no decompression time. I signaled to Francoise that we'd explore the wall for 10 minutes then head back.
The rock cracks yielded two large octopus, but they were very far in so there was no real way to get any good pictures. I didn't find any wolf eels either. During the whole dive, the stars were the nudibranchs. There were so many, especially the red flabellinas.
(Please note, these are not my images, they are just representative of what we saw)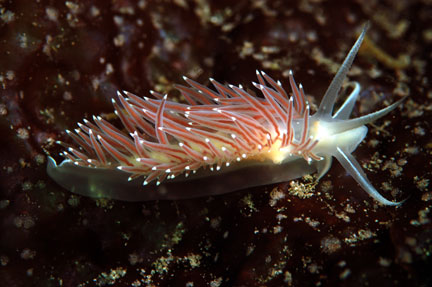 I saw a new one, the
striped nudibranch
.
There were also some new ones in the shallows clinging to the kelp (but they might not have been nudibranchs, they could have been some kind of snail). There was a giant white dendronotid, a leopard dorid and an heath's dorid. The kelp and eel grass were festooned with kelp crabs.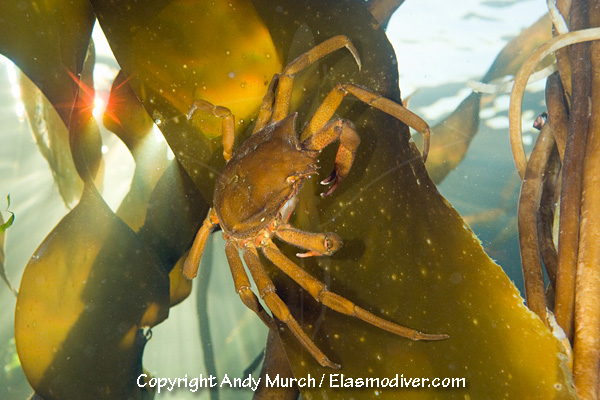 There was also another huge bait ball of small silvery fish. I was able to get some video of it this time, and a picture.
I was very happy that I didn't miss the main wall, for Francois sake. I was going pretty fast during the dive trying to find the wall, so it wasn't the most relaxing one. But, after the dive, the weather cleared and Bridget had made some delicious lunch which we had on the beach. Much more relaxing, thanks!!! Francois had his camera along, but didn't think he got any pictures of note. Next time...